Your car is most likely your second largest investment. Therefore, proper professional repairs are important in preserving its value. Take your car to a shop you can trust with this investment. Choose a repair shop that has state of the art equipment and I-CAR trained employees. Voelz Body Shop can provide you with both.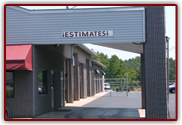 We Work With Your
Insurance Company for Repairs

In Business for
Over 32 Years
At Voelz's, we say that it is "Your Car, Your Choice." Simply put, your car is "your" car. You have the choice of where you want your car repaired. An insurance company cannot require you to go to any one particular shop. You are not required by law to obtain more than one estimate. If you know where you want your car repaired, don't waste your precious time. Avoid apathy, take an interest in where your car is being repaired.
Repair estimates are rarely the same. In fact, we would be shocked if our estimate matched a competitor's to the penny. Computerized estimating should make us more competitive with each other. Typically, lower estimates may not include all the necessary tasks to repair your car; therefore lower estimates are not always better estimates. Make sure you are comparing apples to apples. If our estimate is higher or lower than an insurance company or a competitor, please ask us why.
Repair shops have experience with handling insurance claims. Let us help you negotiate your claim with the insurance company involved. On average, most people only have to deal with an insurance claim once every 7 years, while we handle several every week.
©2012 Voelz Body Shop, Inc. - (812) 376-8868